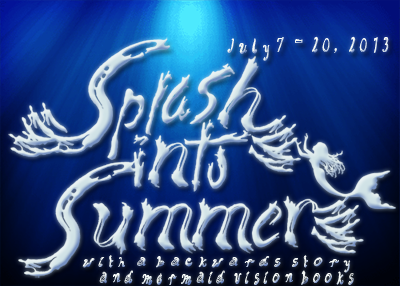 I love the summer for many reasons, and the
Splash into Summer
event ranks very high on that list! I am super excited to be a part of this event for the third year.
Splash into Summer
is hosted by Bonnie at
A Backwards Story
and Angel at
A Mermaid Vision Books
.
Angel is highlighting mermaids in Asia today on her blog. Yours truly is guest posting at
A Backwards Story
today. Since summer time is all about vacations, my post spotlights the top 5 vacation spots for mermaids (or mermaid wannabes). Some may surprise you...
For instance, you may not think of the frigid waters off the coast of Alaska as a high-ranking vacation spot for the merfolk, but it is. In fact, several books have featured that setting. For instance, the mermaid army in Sarah Porter's Waking Storms hide out in Alaska before moving down the coast. Then there is the latest Emily Windsnap book (Emily Windsnap and the Land of the Midnight Sun) which features Alaska as the setting. What other proof do you need?
Maybe you prefer warmer temperatures for your vacations. Don't worry! I've got you covered. Just hop over to
A Backwards Story
to see the top 5 warm weather hot spots for anyone with flip flops or fins.