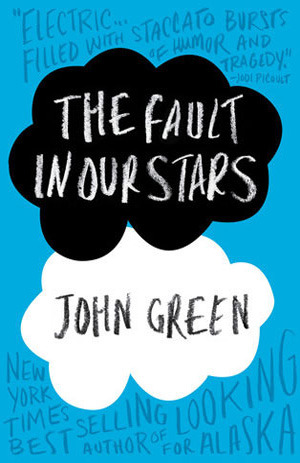 Despite the tumor-shrinking medical miracle that has bought her a few years, Hazel has never been anything but terminal, her final chapter inscribed upon diagnosis. But when a gorgeous plot twist named Augustus Waters suddenly appears at Cancer Kid Support Group, Hazel's story is about to be completely rewritten.
At first, I did not know what to think of this book. My original opinion based on the first 50 pages or so was "eh". In fact, when I described what I had read so far to a co-worker (whose teenage daughter raved about this book) she said, "Sounds cheesy." And to be completely honest, she was right. But I kept reading anyway, and ignored the temptation to give up on the book and watch the movie instead.
Now that I've finished the book, I can say with all sorts of authority that I do not have that
The Fault In Our Stars
is one of those books that gets better after you read it. Don't give up on the book.
With that being said, do I think this book is worth the hype it gets? Nope. Not at all. I still think it's overrated. Horribly overrated, actually. As far as books in this genre go, I still say that Wendy Wunder's
The Probability of Miracles
(read the review here)
trumps
The Fault in Our Stars
. If this were a cage match, Wunder's book would be taking home the gold belt in the categories of readability, witty banter between characters, and swoon worthiness.
So what made me drop TFIOS down a few notches? Frankly, the wordiness. I like that Gus and Hazel bonded over a book. For a reader, that's a win. Unfortunately, there were many book quotes and long excerpts in the TFIOS that could have been cut without ever affecting the plot. I found myself skimming through those parts because they just felt too heavy and borderline pretentious. I'm even going to go out on a limb and say the younger teenage readers that are fangirling over this book didn't even fully understand the role of those sections or their intended meanings. Not because teenage readers aren't smart enough to figure it out (they are), but because they subconsciously realized how wordy and unnecessary those lines were, and never spent the time to try to chew through the fat to find the purpose.
I had a few more issues with this book that are pretty hard for me to overcome as well. The time span of this book is not terribly long. So when I find the two characters professing their love for another in that matter of days, I've got problems. Even if these are kids that fall into love as often as I change shoes, it still made me roll my eyes. Especially since Hazel gives off the impression of being more mature and wiser than her young age should allow for. Maybe this was just me, but it seriously bothered me.
Now, what did keep this book from the pits of Tartarus was Gus and the blind mutual friend. Everyone talks about Hazel, but I'm not sure if these guys get enough credit. Maybe they do. Hazel was witty at times, but I feel like she plays a supporting role to Gus's show-stopping performance. You better have tissues for the final 50 pages of this book. Gus will steal your heart. Their mutual friend is equally important in my opinion. A great deal of attention is spent on Hazel and Gus, but there was a lot of good lessons and powerful moments for the friend. He deserves more credit.
Overall, I'm a bit torn by this book. I think it's more powerful after you read it-- one of those books that lingers for a bit so you can soak it all in. But, I don't think it's the best in the genre. If you find yourself disagreeing with me, check out Wendy Wunder's
The Probability of Miracles
. You might change your opinion.