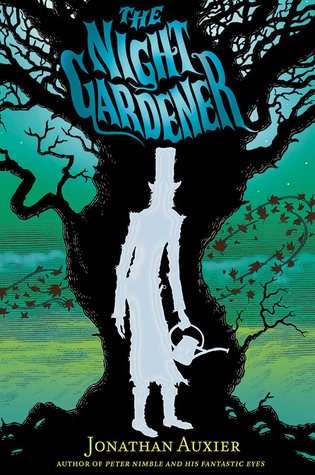 This much-anticipated follow-up to Jonathan Auxier's exceptional debut,
Peter Nimble and His Fantastic Eyes
, is a Victorian ghost story with shades of Washington Irving and Henry James. More than just a spooky tale, it's also a moral fable about human greed and the power of storytelling.
The Night Gardener
follows two abandoned Irish siblings who travel to work as servants at a creepy, crumbling English manor house. But the house and its family are not quite what they seem. Soon the children are confronted by a mysterious spectre and an ancient curse that threatens their very lives. With Auxier's exquisite command of language,
The Night Gardener
is a mesmerizing read and a classic in the making.
So hard to put in words what I thought about this book.
There are many things that stand out to me in
The Night Gardener
as extraordinary: characters, lessons learned, themes, and of course the story telling.
Each page reads like an old Victorian ghost story. The story is not terrifying or full of gore, but sends just enough shivers up your spine to keep you turning the pages. Molly and Kip- two orphaned siblings- were great compliments to one another. Each is layered and complicated, with very distinct and separate paths to take in this tale.
Then, there is this whole underlying theme of courage for all the characters involved. For each, courage meant something different, and yet it all worked together perfectly. I think Molly and Kip's quest to find courage were the easiest to relate to for younger readers, while the Windsors speak to older readers. The author also uses the symbolism of Kip's crutch (appropriately named Courage) to further extend the theme perfectly.
On a side note, this story took the author 9 years to write. Nine years! That is serious dedication, and I think the end result is brilliant. There is no wonder that this book would make its way to the 2015 Sunshine State Reader list. Also, for fans of Ray Bradbury, you will notice similarities between
The Nigh Gardener
and
Something Wicked This Way Comes.
That simple fact alone pushes this book up to the top of my awesome forever list.
Bottom line: read it. But when you do read it, read it to appreciate all the subtle motifs and deeper themes that might go overlooked by a younger reader.