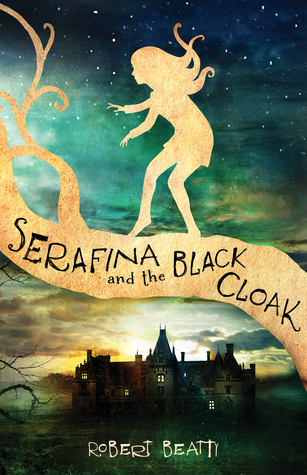 Serafina has never had a reason to disobey her pa and venture beyond the grounds of the Biltmore estate. There's plenty to explore in her grand home, although she must take care to never be seen. None of the rich folk upstairs know that Serafina exists; she and her pa, the estate's maintenance man, have secretly lived in the basement for as long as Serafina can remember. But when children at the estate start disappearing, only Serafina knows who the culprit is: a terrifying man in a black cloak who stalks Biltmore's corridors at night. Following her own harrowing escape, Serafina risks everything by joining forces with Braeden Vanderbilt, the young nephew of the Biltmore's owners. Braeden and Serafina must uncover the Man in the Black Cloak's true identity . . . before all of the children vanish one by one. Serafina's hunt leads her into the very forest that she has been taught to fear. There she discovers a forgotten legacy of magic, one that is bound to her own identity. In order to save the children of Biltmore, Serafina must seek the answers that will unlock the puzzle of her past.
This book has one of the coolest book trailers ever! So, naturally, when I saw it I had to read
Serafina and the Black Coat.
Too bad I ended up being number 9 on the library wait list and had to wait a bit for my chance to arrive.
As soon as you open the book, you know you're reading a story told with one of the most fantastic settings ever: The Biltmore Estate! Being from the South, I have a fascination with this place already. It's like an unspoken rule of Southerners. That doesn't even touch on the time period-- which I am equally infatuated with. Swishing silk skirts and gentlemen with southern charm. Swoon.
But that's not really what's important in the novel. The time frame and location helps set up the big mystery that surrounds Serefina and the man in the black coat. Robert Beatty is a masterful story teller. Each page is lush with descriptions that suck you right into the story. Within pages, you will find yourself running alongside Serafina and Braeden in their quest to solve the mystery and save the Biltmore's children.
If you are a fan of period works, and don't mind an obvious middle grades audience, you will enjoy this book. There is also just enough magic swirling about to make
Serafina and the Black Coat
suitable for fans of fantasy novels.
The awesome book trailer that first brought
Serafina and the Black Coat
to my attention: