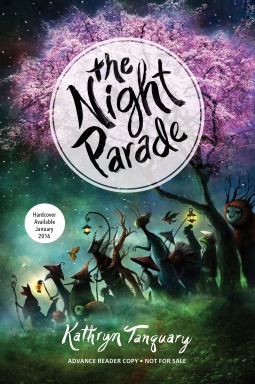 The last thing Saki Yamamoto wants to do for her summer vacation is trade in exciting Tokyo for the antiquated rituals and bad cell reception of her grandmother's village. Preparing for the Obon ceremony is boring. Then the local kids take an interest in Saki and she sees an opportunity for some fun, even if it means disrespecting her family's ancestral shrine on a malicious dare.

But as Saki rings the sacred bell, the darkness shifts. A death curse has been invoked... and Saki has three nights to undo it. With the help of three spirit guides and some unexpected friends, Saki must prove her worth - or say good-bye to the world of the living forever.
The Night Parade was such an unique story! I was worried it was going to be a bit slow, but it really ended up being fascinating. It reminded me a bit of A Christmas Carol, with the three visiting spirits, but don't think it's a retelling. It's not.
Saki is your typical bratty, self-absorbed teenager. She does bratty teenager things until she accidentally summons a spirit and evokes a death curse.Participating in the Night Parade is her way to save herself. But then something happens. Each night, she learns a bit more about the spirit world. She meets interesting guides and creatures through her struggles.
The imagery is so vivid in this book. I felt like I was walking along the Pilgrim's Path trying to reach the Midnight Prince right along with Saki. While the message and story was great, I think my favorite element of this book is the Japanese culture. I know nothing of Japanese culture, but here I was reading about ceremonies and beliefs that fit perfectly in this tale. It was just wonderful.
I have a feeling this book is going to pop up a lot. I fully expect to see it land on many school reading lists in the upcoming years.