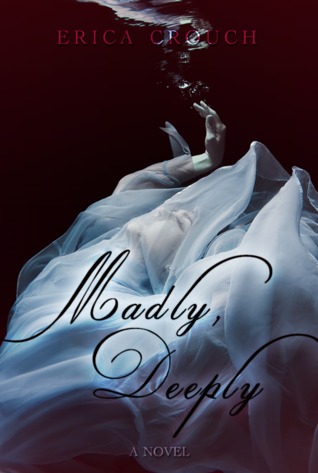 It was many and many a year ago,
In a kingdom by the sea...

Annaleigh Wells and William Calloway had a love even the angels envied. It was as if the universe spun them toward one another, like the stars crafted their souls to fit perfectly together.

With a wedding on the horizon, fate had a change of heart. Whispered warnings from phantoms and morbid nightmares darkened every night—but even visions of the future couldn't save Annaleigh.

Inspired by Edgar Allan Poe's poem Annabel Lee, Crouch's period romance Madly, Deeply tells the tale of love so great, it cannot be contained in just one life.
Wowza,
It's a short read, but it is packed with some serious emotion.
Madly, Deeply
is a novel based around the classic Poe poem "Annabelle Lee", so don't expect rainbows and unicorns. Each section of the novel is divided up into sections that correlate to events from the poem... so you know what that means.
But the novel really isn't about what happens to Annaleigh. Not really. This is William's story, and his heartbreaking story will have you in tears.
The setting is absolutely breathtaking. Descriptions are written in such eloquent prose, I would have thought I was reading a poem at times. The characters are pretty good too. There are three main characters, and I love them all, but William and Annaleigh occupy most of the spotlight. There is a bit of a supernatural spin on things, but it works.
I don't think there is much need to go into the plot since if you're familiar with the poem you know what happens. But
Madly, Deeply
is more than a book about loss. It is also a story about overcoming and hope. I highly recommend this one for any fan of Poe or gothic love stories.