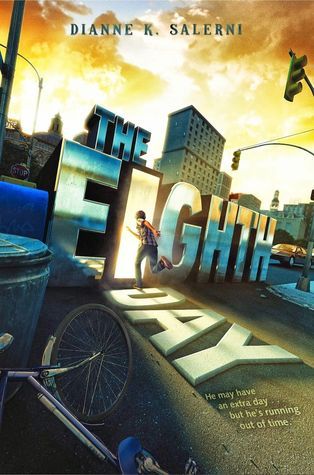 When Jax wakes up to a world without any people in it, he assumes it's the zombie apocalypse. But when he runs into his eighteen-year-old guardian, Riley Pendare, he learns that he's really in the eighth day—an extra day sandwiched between Wednesday and Thursday. Some people—like Jax and Riley—are Transitioners, able to live in all eight days, while others, including Evangeline, the elusive teenage girl who's been hiding in the house next door, exist only on this special day.

And there's a reason Evangeline's hiding. She is a descendant of the powerful wizard Merlin, and there is a group of people who wish to use her in order to destroy the normal seven-day world and all who live in it. Torn between protecting his new friend and saving the entire human race from complete destruction, Jax is faced with an impossible choice. Even with an eighth day, time is running out.
Fun to read right from the start!
The Eighth Day
is a middle school Sunshine State Reader for the 2015-2016 school year. I usually pick a few books from the list to read during the year so I can help out with our middle school book club. Luckily, I can say that I have not been disappointed with what I've read this year so far!
The Eighth Day
is so full of action that it's hard to put down once you start reading. Jax has issues to work through, but it's nothing compared to his legal guardian's life. Talk about complicated. Add a mysterious girl living next door and you've got yourself quite a mystery.
Oh, but the real mystery begins when Jax discovers there is an eighth day in the week that only a select group of people know about. Why? Because that day is part of King Arthur's legend.
This book did such a great job incorporating elements of one of my favorite tales into a fresh spin on middle grades fiction. It is geared towards younger readers, so don't look for deep themes that leave you questioning life at the end of the book. You won't have a life changing experience. But you will have a great time reading
The Eighth Day
. I highly recommend it to all middle school kids and fans of Arthurian legend.