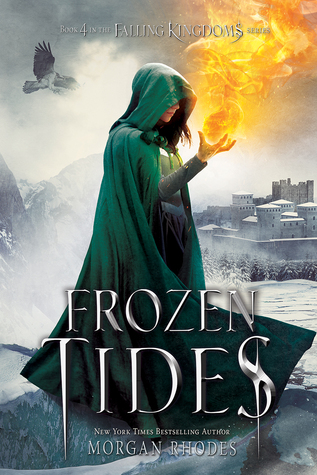 Rebels, royals, and monsters wage war over the Mytican throne in the shocking fourth book of the Falling Kingdoms series, from New York Times bestselling author Morgan Rhodes.

CLEO: Reeling after a bloody showdown in Limeros ending with Amara's abduction of the water crystal, and a vacancy in the Mytican throne, Princess Cleo must cast aside her feelings and look toward her kingdom with the eyes of a Queen.

MAGNUS: With the kingdom in chaos, Princess Lucia still missing and quite possibly in danger, and a shocking realization about Cleo, the steely prince is once again torn between love and duty, leaving him wondering whether he's strong enough to rule his people.

LUCIA: The young sorcercess has had her vengeance after the cruel death of her first and only love. Heartbroken and unable to trust anyone, she allies with the awoken Fire god, who also seeks revenge.

JONAS: After escaping death by the skin of his teeth, the defeated rebel—along with a mysterious stranger–leader reunites with Princess Cleo, only to find himself a mere pawn in a dangerous hunt for the elusive Kindred.

KING GAIUS: Abandoned by Melenia and betrayed by his own children, Gaius flees Mytica and sails to Kraeshia, where he attempts to ally with the famously brutal emperor across the Silver Sea.
I am not sure I can review Frozen Tides. I love this series so much!
To keep from filling pages upon pages of what is so fantastic about this series, I'm opting for a simple list. You'll appreciate this more, I'm sure.
* The characters give you the feels. It is so hard to find characters are well-written and complicated as these. There are secrets everywhere. EVERYWHERE. Gah. I want to say more, but doing so would be giving away too much of the plot. But let's just say, I'm totally team Magnus. (Sorry Jonas. You were my boo for books 1-3, but infatuation is a fleeting thing.)
* The plot is pretty epic too. This thing has so many twists and turns, it's crazy. You will think you know what's happening and then BAM! You were wrong. Now, I will admit, I had a few tingly feelings in this book that ended up being correct. Hooray for that ending. I cannot wait to see how that plays out.
* The writing is stellar. Morgan Rhodes is a genius. I want her to be my writing mentor. Seriously. She can take individual stories that are great on their own, but she doesn't stop there. No way. Those individual stories slowly twist and mingle before finally overlapping into some epic scene that brings every character and event together. It takes talent to do that and make it work. Not to mention these books are told in alternating POV, which I usually hate, but not this time. Each character's voice is unique. You won't run the risk of having Cleo and Jonas sounding the same.
* The mythology is unique and adds an extra element to the story. I love mythology. It's hard for me not to like something based on myths. But these aren't myths you learned in school. Morgan Rhodes creates her own mythology, and it's great! The ideas of Watchers and Guardians interacting with humans for good or evil intentions (you have to figure that one out) helps weave that extra element of amazing into the story. And for some of the characters, it adds a whole new dimension.
Those are the highlights of what make these books so amazing. Do yourself a favor and start this series if you have no already. Falling Kingdoms is book one, but the books get better as the series progresses. You might want to wait until all books are out though. It's been a bit frustrating to finish a book in a day, only to have to wait an entire year for the next installment. Oh, and did I mention this series is marketed as Game of Thrones for teens? I felt that was a bit much until I read the books. While it might be missing some of the gore and other mature content, it definitely has the same high fantasy feel. And the author isn't afraid to take risks and kill off people either.