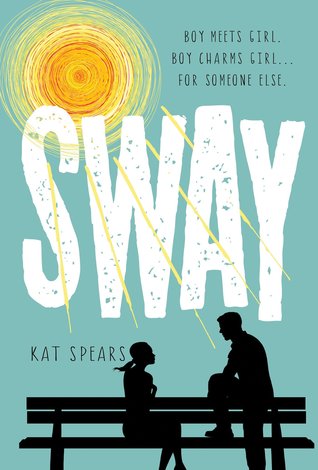 In Kat Spears's hilarious and often poignant debut, high school senior Jesse Alderman, or "Sway," as he's known, could sell hell to a bishop. He also specializes in getting things people want---term papers, a date with the prom queen, fake IDs. He has few close friends and he never EVER lets emotions get in the way. For Jesse, life is simply a series of business transactions.

But when Ken Foster, captain of the football team, leading candidate for homecoming king, and all-around jerk, hires Jesse to help him win the heart of the angelic Bridget Smalley, Jesse finds himself feeling all sorts of things. While following Bridget and learning the intimate details of her life, he falls helplessly in love for the very first time. He also finds himself in an accidental friendship with Bridget's belligerent and self-pitying younger brother who has cerebral palsy. Suddenly, Jesse is visiting old folks at a nursing home in order to run into Bridget, and offering his time to help the less fortunate, all the while developing a bond with this young man who idolizes him. Could the tin man really have a heart after all?

A Cyrano de Bergerac story with a modern twist, Sway is told from Jesse's point of view with unapologetic truth and biting humor, his observations about the world around him untempered by empathy or compassion---until Bridget's presence in his life forces him to confront his quiet devastation over a life-changing event a year earlier and maybe, just maybe, feel something again.
This book. I don't even know what to think about it, really.
I cannot believe this is a first book by the author. There is no way. Her ability to create a voice in a character is unbelievable.
Jesse (Sway) is interesting. He is 100% rough around the edges and a bit hard to digest at times. When I started this book, I thought "Oh, Cyrano de Bergerac retelling. Awesome." I love that story. It's sweet, funny, and complicated in a nice rom-com kind of way, so obviously
Sway
was going to follow suit. Um, no. Not at all, actually.
Sway
is gritty. Within the first few paragraphs I knew I was in for something different. If I'm being a bit honest, I am worried that my decision to highlight this book for my YA book club with students might have been a risky venture. I'm really hoping there is no backlash from this one due to all the drug references and language. Like I said, it's gritty (and very realistic).
Several times I thought about putting this one down because the language was intense and the pages seemed to drip with drug references. (Which makes sense since Jesse is a drug dealer, among other things.) But every time I convinced myself I was done, something would happen. Then I found myself laughing hysterically and texting snap shops of pages to my friend to read. She gets me and we shared many laughs over Jesse's sardonic humor.
This book is not politically correct in any way, shape, or form. Insults against all types of people are thrown about all over the place. And I loved it for that very reason. The sarcastic and highly critical characters won me over. Especially the older man in the nursing home with a very strong dislike of Oprah. I was in tears from laughing so hard.
Kat Spears does an amazing job of getting inside of the head of a boy with major trust issues and problems, and she makes him one of my all-time favorite characters. I am 100% team Jesse. But before you rush out to read this one, you should know it comes with a disclaimer. There is a TON of foul language and drug/sex references all over the place. I would not recommend this one to younger readers, no matter how mature they think they are.
Sway
is definitely suitable for older readers only. If your younger readers want a sweet Cyrano story, they need to check out
Flawless
by Laura Chapman.