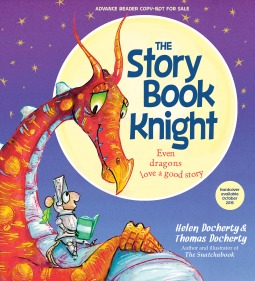 Even dragons can't resist a good story…
Even though Leo would rather sit at home and read, his parents send him out into the world in the hopes that Leo will become a famous knight. But when Leo comes up against the land's most fearsome beasts, he soon discovers that scary monsters enjoy a good book as much as anyone…
Oh man. If you are unfamiliar with the Docherty duo, get yourself acquainted now! They have to be one of the most adorable and extremely talented (and amazing) team ever. Ever! I have been completely enchanted with everything they produce since I stumbled across The Snatchabook on Netgalley a few years ago.
When I saw they had a new book coming out, I got excited. I was a bit worried it would not live up to my expectations since I absolutely LOVED The Snatchabook, but The Storybook Knight did not disappoint. I loved that my 8 year-old son climbed up into my lap to read this one with me. (He knows how excited I was to read this.) As usual, the illustrations were AMAZING. Absolutely stunning and the perfect compliment to a charming story. I am always in awe of the talent these two have. I had a digital copy to review, and yet, the images were still vibrant and eye catching. We loved looking at all the little details included on the pages.
Little Leo is a reader, and I love him for that. It was great to see how he tackled a problem in his own unique way. I'm all for a character (person) staying true to themselves despite the challenges they face. What a great message for little minds!
I highly recommend this one. In fact, I think you'll want to add it to your personal collection. I know I do!