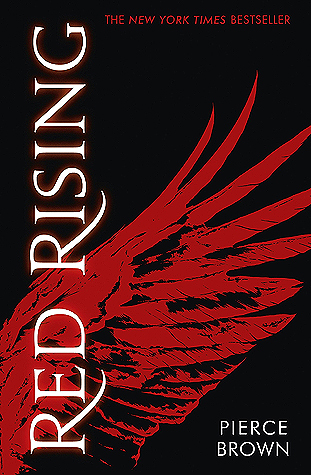 Darrow is a Red, a member of the lowest caste in the color-coded society of the future. Like his fellow Reds, he works all day, believing that he and his people are making the surface of Mars livable for future generations.
Yet he spends his life willingly, knowing that his blood and sweat will one day result in a better world for his children.
But Darrow and his kind have been betrayed. Soon he discovers that humanity already reached the surface generations ago. Vast cities and sprawling parks spread across the planet. Darrow—and Reds like him—are nothing more than slaves to a decadent ruling class.
Inspired by a longing for justice, and driven by the memory of lost love, Darrow sacrifices everything to infiltrate the legendary Institute, a proving ground for the dominant Gold caste, where the next generation of humanity's overlords struggle for power. He will be forced to compete for his life and the very future of civilization against the best and most brutal of Society's ruling class. There, he will stop at nothing to bring down his enemies... even if it means he has to become one of them to do so.
Get ready to have your world rocked.
I am afraid I probably waited too long to write this review because a lot of the finer details have started to blur together among the books. But I can still remem

ber how AMAZING this book was.
Seriously.
As I read, I had to keep reminding myself that it's YA. It was so complex and the characters so intricately developed, that this series could easily slip into the adult field by simply changing the ages of the characters. In fact, I fully expect Red Rising to have serious cross over appeal.
While I could talk a lot about the book, I think I will focus on setting and characters as this book sets the stage for the remainder of the series. I am not a fan of sci-fi novels, which really made me hesitant to try this book. I didn't care how amazing I was told it was, I just couldn't muster the will power to read a book set in space. (Probably a good time to mention that I'm not really into Star Wars either, so you see what I mean about sci-fi reluctance.) I put my stereotyped judgements to the side, and decided to get the books from the library. Then I read the whole series within a week. I could not pull myself away. So does the setting work? Yep! It works so well, actually. I was completely engrossed. It was like nothing I have read before. I admit I got a bit glassy eyed a few times with the space craft descriptions, but other than that I was mesmerized. It was like a gala

ctic Hunger Games-- with a mythology twist. Score!
But the characters are what really stole the show (and my allegiance). Man. Eo, Darrow, Mustang, and so many others. I don't even know where to start. Every single character has so many layers. SO. Many. Layers. You're torn between loving them and hating them (mostly loyal adoration). Darrow is so many wonderful things, and yet he keeps making

colossal

mistakes. He's both vulnerable and super-human. I think my favorite characters in this book were Darrow (of course) and Sevro. Oh, Sevro. So o

dd and animal-like, yet completely devoted and loyal to a fault.
I could write for hours about each character in great depth and what they bring to the table, but I won't. My meager words do nothing to tell what it's like to experience these characters (and it is an experience). I laughed. I cried. At times, I closed the book in complete disbelief only to find myself quickly opening it back up to keep reading. I hear people talk about feeling so connected to characters that they feel like they are real. I never really got that until now. I could visualize every moment of this book in my head as I read. I could see Sevro delivering his hysterical one liners and running around with his wolf cloak. Darrow's Adonis looks burned behind my eyes when I slept. I was completely engrossed, and when the series ended I truly hated to say goodb

ye.
If you have not read Red Rising, put it next in your

queue

.

You will not be disappointed.