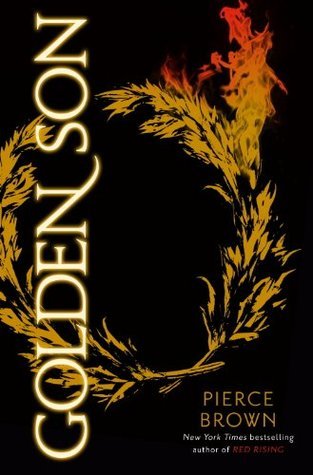 Golden Son
continues the stunning saga of Darrow, a rebel forged by tragedy, battling to lead his oppressed people to freedom from the overlords of a brutal elitist future built on lies. Now fully embedded among the Gold ruling class, Darrow continues his work to bring down Society from within.
A life-or-death tale of vengeance with an unforgettable hero at its heart,
Golden Son
guarantees Pierce Brown's continuing status as one of fiction's most exciting new voices.
It's a rare find to discover a sequel as good as-- if not better than-- its predecessor, but that's exactly what you get with Golden Son.
Have I mentioned how much this series rocks? I just cannot say enough about the writing. It's in a world of its own... kind of like our characters. Once again, the world building creates images that had me captivated. I really am not a fan of anything that takes place in space or has a hint of stereotypical sci-fi themes, but I ignored all that for this book. I didn't mind the spacecraft or

the fact that these characters live on planets other than earth. It all worked beautifully.
With Golden Son you get new characters and new heartache. And oh that heartache... I felt the loss as if it were my own. Every emotion bubbled up right along with Darrow's. But then one heck of a twist was delivered that left me reeling. I remember just sitting there thinking "oh snap

."
There is

more nonstop action in the second installment of the Red Rising series that will keep you flipping through the

400+ pages

at

lightning speed. But be warned... along the way there is unbelievable heartache and so many twists and turns you will struggle to keep your head straight, right before the blow of a lifetime (and a

wicked cliffhanger ending).