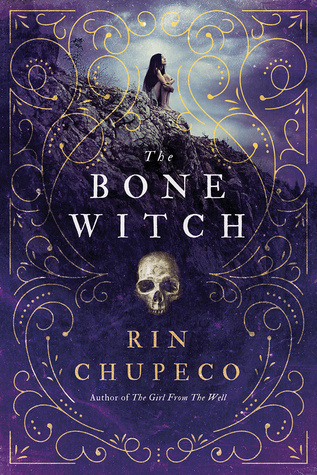 The beast raged; it punctured the air with its spite. But the girl was fiercer.

Tea is different from the other witches in her family. Her gift for necromancy makes her a bone witch, who are feared and ostracized in the kingdom. For theirs is a powerful, elemental magic that can reach beyond the boundaries of the living—and of the human.

Great power comes at a price, forcing Tea to leave her homeland to train under the guidance of an older, wiser bone witch. There, Tea puts all of her energy into becoming an asha, learning to control her elemental magic and those beasts who will submit by no other force. And Tea must be strong—stronger than she even believes possible. Because war is brewing in the eight kingdoms, war that will threaten the sovereignty of her homeland…and threaten the very survival of those she loves.
Let's take a minute to discuss the beauty of this cover. The deep purple with the gold swirls... that skull that just floats. Tiny Tea sitting on top of the rock lost in thought. It's perfect in so many ways.
When I started this book, so many months ago, I had no idea what I was getting into. I don't even think there was any buzz about it at that time, either. For me, it was just something to break the monotony of my usual reading. (To be fair, there hasn't been a lot of reading going on lately due to school/work obligations, but that is a side note.) Alas, I could tell from the moment I opened
The Bone Witch
that I was reading something very different from my "usual" likes.
I am not typically a fan of alternating points of view. They tend to irk me. Probably because most of the time they aren't done to standard and the characters just seem sub-par. When I realized that
The Bone Witch
might be an alternating point of view story, I got a little nervous. But then I realized, it wasn't p.o.v. switch at all, but more of a time switch. So, that was interesting. I met Tea in the present who obviously had a lot of things to work out (someone really pissed her off) and Tea from the not too distant past.
It has been months since I read this book (at least 4) and I still remember a good portion of the finer plot details and things I liked. That is such a good sign! It's always so disappointing to read a book and tell someone you liked it, only to find you can't recall much about it when they asked what you liked. I feel like
The Bone Witch
is a story that will linger. It will make you think and pick details out. I also think Tea's story is going to become even better as the series continues. I am anxiously waiting to see what happens next! Rin Chupexo has an incredible talent for writing and story telling. The setting and world building sucked me in and held me captive. I could not put this book down. I wanted to be there with Tea. When deception and trickery found her, I felt her pain and anguish. I felt her fury as my own. I felt the loss of her brother (and you know what I mean) as if I walked beside her myself. This is a book I recommend time and time again to fans of fantasy, and it has not failed me yet.