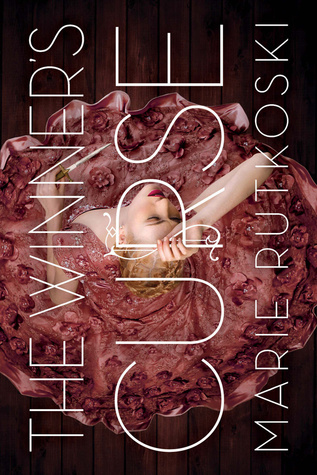 Winning what you want may cost you everything you love...

As a general's daughter in a vast empire that revels in war and enslaves those it conquers, seventeen-year-old Kestrel has two choices: she can join the military or get married. But Kestrel has other intentions.

One day, she is startled to find a kindred spirit in a young slave up for auction. Arin's eyes seem to defy everything and everyone. Following her instinct, Kestrel buys him—with unexpected consequences. It's not long before she has to hide her growing love for Arin.

But he, too, has a secret, and Kestrel quickly learns that the price she paid for a fellow human is much higher than she ever could have imagined.

Set in a richly imagined new world, The Winner's Curse by Marie Rutkoski is a story of deadly games where everything is at stake, and the gamble is whether you will keep your head or lose your heart.
I have checked out this book at least twice from the library over the last year and returned it unread. Why, I have no idea. That cover is beautiful, and it has called to me with its subtle siren song from the moment I first saw it. But something has kept us apart... until now.
But it is better to be tardy to the party than to never arrive at all. Unless you are Kestrel... in which case you should just stay home, but that's not really the point I was trying to make. The point is,
The Winner's Curse
is AMAZING. Believe everything you have heard. It's all true. I thought it couldn't possibly live up to the hype, but it has. In fact, it might have actually-- gasp-- exceeded my expectations.
I can't recall the last time I have stayed up until the wee hours of the morning to read a book. Or, better yet, binged read a series. When I finished
The Winner's Curse
I frantically sought out
The Winner's Crime.
Luckily, I found the digital copy at the library and devoured it in one sitting. But now I have to wait for book 3. I'm not too happy about that. I need this book like I need air.
Marie Rutkoski has a remarkable talent for weaving a story that will have you enchanted. The characters are so well developed! My word. It's hard to imagine that they only live on paper. As I sit an contemplate exactly what I want to share about the books, I find that maybe Ms. Rutoski has done a disservice to YA literature. How will other writers be able to compare? How will she be able to top her own work? The bar has been set high, I'm afraid.
If you are wondering what you will find between these pages, here is a short run down:
clean romance
lots of danger and trickery
lies, lies and more lies
so many feels
beautiful descriptions
powerful insights into the complex nature of emotions and what fuels them