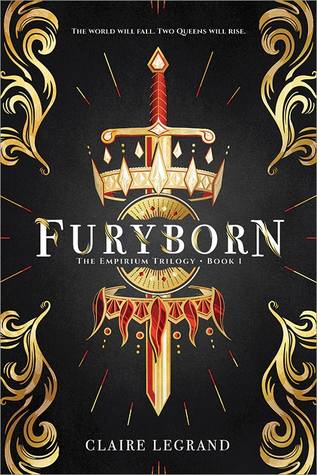 When assassins ambush her best friend, the crown prince, Rielle Dardenne risks everything to save him, exposing her ability to perform all seven kinds of elemental magic. The only people who should possess this extraordinary power are a pair of prophesied queens: a queen of light and salvation and a queen of blood and destruction. To prove she is the Sun Queen, Rielle must endure seven trials to test her magic. If she fails, she will be executed...unless the trials kill her first.
A thousand years later, the legend of Queen Rielle is a mere fairy tale to bounty hunter Eliana Ferracora. When the Undying Empire conquered her kingdom, she embraced violence to keep her family alive. Now, she believes herself untouchable--until her mother vanishes without a trace, along with countless other women in their city. To find her, Eliana joins a rebel captain on a dangerous mission and discovers that the evil at the heart of the empire is more terrible than she ever imagined.
As Rielle and Eliana fight in a cosmic war that spans millennia, their stories intersect, and the shocking connections between them ultimately determine the fate of their world--and of each other.
Wow. Let's just say that this one caught me by surprise.
Having recently finished Morgan Rhodes'
Falling Kingdom
series (and discovering that the spin-off series I adore was canceled), I was looking for something to fill a void. I really had no idea what to expect when I started reading, but it did not disappoint.
I am always skeptical of alternating points of view stories because they can tend to be flat and repetitive.
Furyborn
takes that concept, though, and adds in a thousand year time gap. Because of this, you get a seriously complicated back story for Rielle while simultaneously learning about Eliana in a more modern setting (but not really modern at all). I figured out the connection rather early on between the two kick butt females, but the significance doesn't really set in until the final 1/3 of the book. It's like one of those internet videos that has been captioned "wait for it".
I can't really get into the nitty-gritty of what I loved about this book because it would risk ruining so much for anyone that hasn't read it yet. I will say, though, that it was well paced and the plot is pretty solid. There were no glaring holes that made me roll my eyes. The descriptions were perfect and did a fantastic job of supporting the story. It's hard to pick a character that I would call a favorite, but Simon and Eliana are pretty awesome. Rielle's story is the most intriguing, but those two are such a great combination of sass and fury. I really have high hopes for book 2 in this series since
Furyborn
did a phenomenal job of setting the stage for it.